Kashmiri Street Foods:
Kashmiri Street Foods: Popular and tasty, Kashmiri street cuisine is a great introduction to the region's rich culinary heritage. Kashmiri street cuisine ranges from the heady smells of spices to the delightful crunch of fried bhajias and samosas. Koftas, dum aloo, and rajma chawal are all tasty meals that go well with fragrant basmati rice. Try the classic halwa, a creamy dessert made from semolina and sugar, if you're in the mood for something sweet. If you look around, you can locate something tasty. Kashmiri street cuisine is popular because it is delicious, cheap, and easily accessible. You can find something to satisfy your cravings regardless of your financial situation.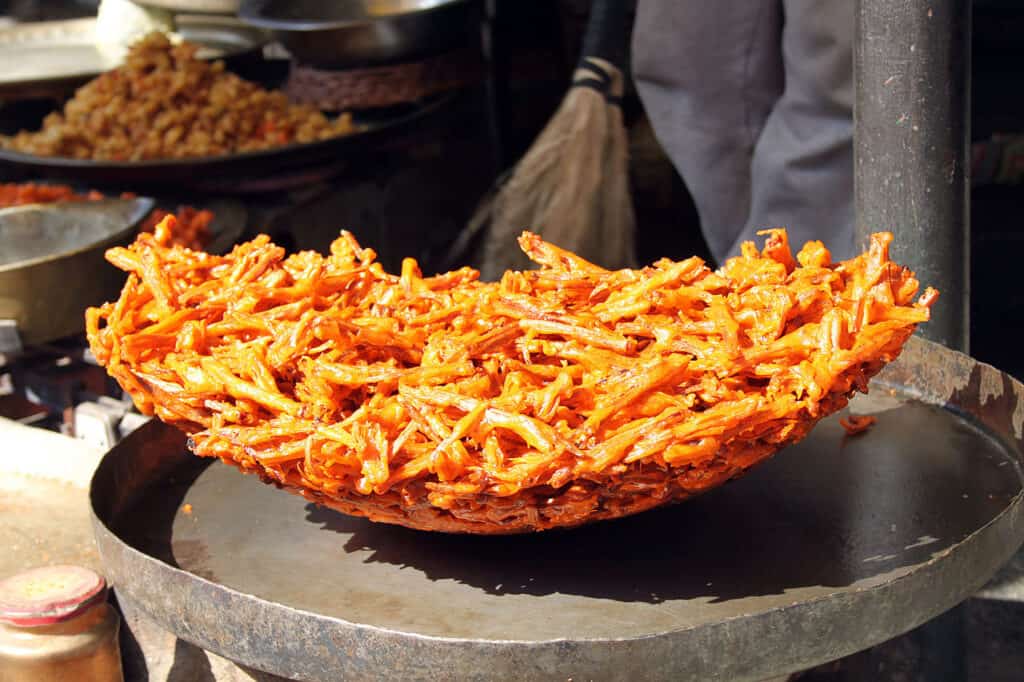 1.NADER MONJE
Long before French fries, we had our own crispier and colorful fries. This oil dripping delicacy can put any cholesterol rich fast food to shame. These are lotus stems cut into pieces and dipped in besan batter and fried in oil.
2. TYIL KARRE
The side variant for people who do not prefer potatoes or naduru (nelumbo) to the fries is the same thing but with peas at the core. Its 'Tyil karre' for less adventurous people.
---
Best Jammu Products:
---
3. TOBRUK HALWE PORATH
It's usually yellow in color, prepared by mixing sooji with ghee and lots of dry fruits.
4. MASALE TZHOT & KRUHUN MASALE
Stand aside Tacos, Falafels and invader Shwarma. The poor man's Shwarma is here.
5. SHANGRAM
This cheeto look alike is actually sweet and gooey. It kinda melts in your mouth if complemented with kehwa or tea.
6. MONJE GAAD
If you like fish, this is a MUST HAVE.
7. BASRAKH
This grenade looking thing is actually gonna leave a blast of taste in your mouth.
8. ANCHAR/PICKLE
The color and the water in your mouth says it all. Check out places where you will find the best pickle in Srinagar.
9. KULFI/MATKE ICE CREAM
And when you are done with all the above, end it with this!
10. Tikki Masala
And when you want Kashmiri style cooking in you everyday life, use Kashmiri Tikki Masala.
---